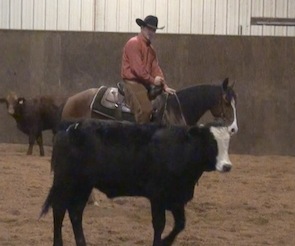 Bubba Matlock: Leaving Your Hand Down On Rerun Cows
Cutting, Cutting 3YO Month 11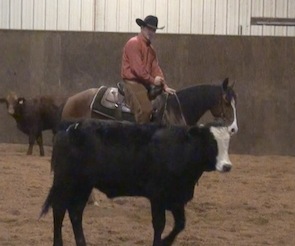 A lot of things can happen in the show pen and not every cow that you cut is going to be good so 2007 NCHA Futurity Reserve Champion Bubba Matlock uses the days that he has to work rerun cows at home to help prepare his horses for when they encounter numb cows in the ring.

"The key to keeping the horse comfortable on reruns is that you have to pick your battles," Bubba said. "You're going to have to sacrifice perfection for confidence and you might need to let a cow go instead of holding it."

In the weeks leading up to the NCHA Futurity, Bubba recommends leaving your hand down on reruns as much as you can but helping when you have to.

"You have to let your horse try to take a hold of the cow because that's what you'll be doing when you're in the show situation. If it doesn't take a hold, then you can help him," Bubba said. "When you're helping the horse make sure that your timing is very good so that you don't get in the horse's way when you do help him."

Use a bit that allows you to help the horse without scaring him.

"You want to reinforce the work that you've done over the past two years not wreck it on a rerun," Bubba said.

If a cow breaks away and goes down the pen, leave you hand down because you need to know how the horse will handle the situation.

"When the cow breaks away, the horse has to listen to you; you want to be able to dictate his speed whether you're at a walk, trot or run. When I take my feet out he's got to stop but he has to stayed hooked up as well. In Fort Worth that pen is big and you see a lot of cattle break away from horses so I always try to keep that in mind and have that on my colts."

Bubba also uses the reruns to help his horses learn to work through an error. "You're going to have a bobble in every run and the main thing is that your horse doesn't panic; if you catch them every time they make a mistake they'll throw their head up or do something that will tell on you to the judge. You want to keep your hand down and be able to ride him back to his spot so you can get back in time."

The horses used in these videos were both by second season stallion DealnWithaCoolCat owned by Dunn Diehl Farms in Milsap, Texas. They are Reyzin Deal (DealinWithaCoolCat x Smart Lil Rey Rose x Dual Rey) and Devilish Dealin (DealinWithaCoolCat x Shes Sanjos Playgirl x San Jo Lena).

See more videos from NCHA Cutting trainer Bubba Matlock on working rerun cows by watching the videos Working the Fresh and Cow Fresh 3 Year Old and Too Tight On The Cow.
More Articles
Cutting, Cutting 3YO Month 11
With the NCHA Futurity three weeks away, Bubba Matlock shows us why quitting is sometimes your best option.There are two videos with this article. In the first Bubba warms up his horse and in the second he works cows. Click ...
Cutting, Cutting 3YO Month 11
Super cool looking horses sometimes get too tight on a cow, 2007 NCHA Futurity reserve champion Bubba Matlock experiments with freeing up the horse.