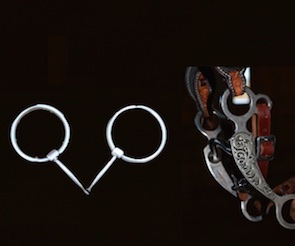 Cutting Horses: When Do You Make the Transition from a Snaffle to a Bridle?
Cutting, Tack, Free Training Articles
We're throwing it back to 2012 - and yes, the photos are from 2012 too! Here's what these great trainers had to say then...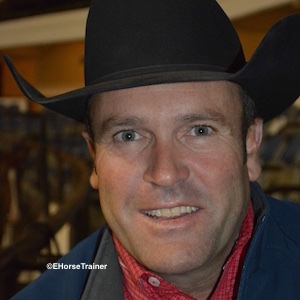 Roger Wagner, Queensland, Australia
I don't have any particular time to take them out of the snaffle and I don't take them out of a snaffle until I think they're ready. Some of my horses are still in a twisted wire snaffle three months out from the futurity.
If you're still struggling in a snaffle with them, then they're not ready for a bridle. A horse has to be confident and soft in a twisted wire snaffle and, thinking about a cow good, before I'll even think about putting them in a bridle. I have to feel that they're hooked to a cow good, that they're listening to my feet, that they're soft and that know I can help them—if I can feel all that, then they're ready. Moving them up in to a bridle is about having them solid; if they're getting consistent and solid then they can probably handle going in to a bridle and starting to work in a different sort of bit.
I go from the twisted wire to a little correction bit. I've got a short shanked Buster Welch that I like a lot, a regular C bit that I like and one bigger correctional that I use a little bit. I prefer a solid bit rather than a correctional if I feel that I can get them soft enough in it but I will use a correctional as well if I have to.
I don't like to use a bit for power or intimidation. I want to get to the point where I can get them soft-feeling in the snaffle before I go to the bit so that I'm not using the bit for intimidation, I'm just using it because that's what I'm going to show in.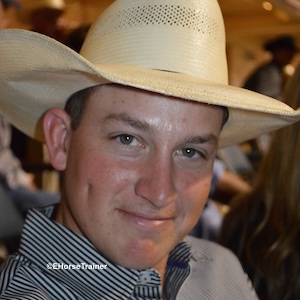 Tarin Rice: NCHA LTE: $1.6 million & NCHA Futurity Open Champion
Tarrin Rice, Poolville, Texas
I take them out of a snaffle pretty early. On January 1 (the day they turn 3 in the USA) they're all going to get a bridle unless they're extremely green. Usually I'll start with a short shank correction but within the first four to five months of their 3-year-old year they're all in a solid bit or they've at least had it. I might go back to a snaffle sometimes but they'll all have had a bridle for sure.
I feel like I work them better and can teach them more in a bridle than I can in a snaffle. When you're in a bridle you're a little softer and slower. For some reason I don't feel like I can ever get them where I think I need them to be in a snaffle very good. I don't even like riding the 2-year-olds real late in the year with a snaffle and will put a correction on them sometimes but that's rare.
I like the little Kerry Kelley Correction to start them in. We go anywhere from a Buster to something with a taller port. You can change the severity of a bit with the curb chain. If you need more or less bit then you can tighten or loosen the curb. I would say I change the severity more by the curb rather than changing the bit.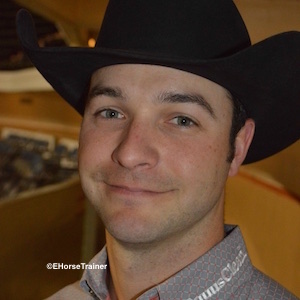 Matt Miller, Poolville, Texas
I usually move mine to a bit at the end of their 2-year-old year so that's before they turn three that I'll have it on them. I'll ride them around in it and lope them in it for a long time but we'll work them in a snaffle. Usually after their first month as a 3-year-old we've got a bit on them most of the time.
I usually go from a snaffle to a little correction. We lope them in the bit but work them in the snaffle because they're not comfortable working in the bit yet. You lope them in the bit for a couple of weeks to get them used to carrying it because it's something that's different for them. Every day you let them wear it a little more and a little more until eventually you're working them in it. How long they stay in the correction depends on each horse. I'll show some of them in a correction and some of them go on to bigger bits.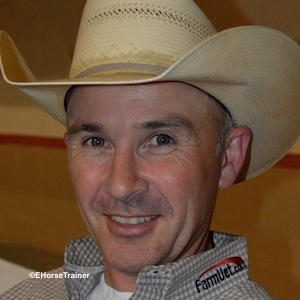 Clint Allen, Weatherford, Texas
When I go from a snaffle to a bridle is normally about March or April—3 or 4 months into the horse's 3-year-old year. We start loping them in the correction first. Every morning when we get them ready we start pulling them round with a little correction bit on. It depends on the horse though when you'll work them in it. I'll go back and forth between a correction and a snaffle for a month or so. Then I may work them for a week in the bridle then I'll go back to the snaffle. I still work my show horses in a snaffle now (four months out from the futurity); it's not very often that I keep them in a bridle all the time. The reason for that is personal preference—I find that I get them too stiff if I work them in a bridle all the time.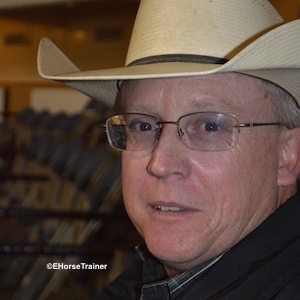 Ed Flynn, Lipan, Texas
Pretty much straight after the futurity in their 2-year-old year I'll start riding them in a short shank correctional. A lot of boys will stick with a snaffle a lot longer than I do but I ride them in solid bridles and everything else real early especially in the first two months of their 3-yerar-old year just to get them broke to a bridle.
It's still two hands; you're doing the same thing until you get them real broke and then you're getting them broke to being one-handed. For me, those first two months are when I try to get them as broke as I can to a bridle because that way you're not fighting it for the rest of the year.
I go back to the snaffle throughout the year. Even right now on my 3's (4 months before the start of the futurity) I've been putting a snaffle on them and pull them around in that for a few weeks to soften them up that way. Then when you go put that bridle back on them, they feel so much better for it.
Getting them broke to the bridle is the same basic principle as using a snaffle—you've got a rein hanging off each side. If you've got them broke to your feet and everything else to where you can pick that ribcage up and break that ribcage, then really, there's not a lot of difference.
After the Correction, I'll go to a long shank Buster Welch aluminum bit then usually after 2 months I'm in a Klapper—something that's solid steel and is usually a good-sized bridle.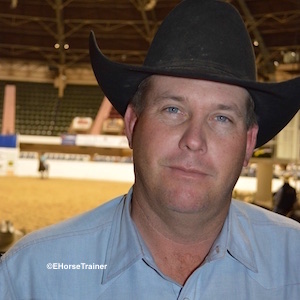 Mackie Hursh, Colorado City, Texas
Every horse is an individual and they'll tell you when to start with a bigger bit for example, if they start pulling on that snaffle. Even if the horse that's 3 is still working good in the snaffle, then I think you should move them up because you want them to be as well rounded as you can so that they know what it's all about.
Usually I like to put a snaffle on and let them get them used to it. When they're 3, we'll just lope them around in it and when they're comfortable with it we'll start working a cow with it.
We'll go from a snaffle to a correction and from there go up to a bigger bit but you want something pretty mild and with tongue relief—you don't want a vicious bridle. I like to use something like a Klapper 336 that's got a pretty short shank and a lot of tongue relief. Once you've gone up to a bridle you can always go back and we do; we always go back and forth between the bits.