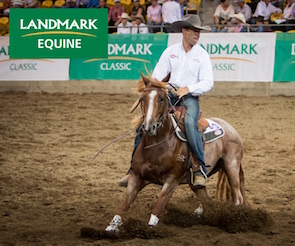 Record High Price of $210,000 for 27-month-old One Moore Metallic
Cutting, News, Campdrafting, Challenge
After just four months of training, One Moore Metallic, a 27-month old stallion, garnered the highest price ever paid for a performance horse at public auction in Australia. The 15 hand high, red roan stallion offered by Rus and Rebecca Bradley at the Landmark Classic Sale in Tamworth, New South Wales, was trained and presented by Rob Leach and sold for $210,000.
Auctioneer Simon Booth knocked the horse down to an undisclosed buyer trading under the name of CW Investments, who is described as a cattleman and highly competitive campdrafter from Central Queensland.
Potential buyers got their first look at One Moore Metallic (Metallic Cat [USA IS] x One Moore Diva by One Moore Playboy) via a video that Leach posted to his Facebook page Rob Leach Equine, a few weeks before the sale.
"I had a lot of phone calls on the horse," Leach said. "People wanted to come and see him and I had a feeling that he'd bring a hundred (thousand). People told me that they were coming to buy him, that they were going to pay that much, so I knew he'd bring seventy-five thousand plus."




Taking into consideration that the prior record was $120,000, paid in 2013 for the stallion One Stylish Pepto—a proven performer in the cutting and campdrafting pens, the anticipated sale price for One Moore Metallic was half of what the young stud brought.
"There was a lot of hype around him that he'd make a lot of money but no one anticipated that he'd make over $200,000," Booth said.
Booth, 27, has been an auctioneer for five years. He also breeds and trains his own horses for campdrafting and challenges—an event that combines dry work and cow work. This was his first time to sell at the Landmark Classic.
One Moore Metallic had been in the sale ring for more than thirty seconds before Booth called for first bids. Asking for an $80,000 opener, no one put their hand up until Leach was given a cow to work. That first bid was for $20,000 but by the time Leach had blocked the beast four times, a telephone bidder had pushed the price to $65,000.

Here's the video of One Moore Metallic going through the sale ring. Thanks to www.WildColtProductions.com.au for letting us use thier video.


VIDEO CREDIT: WILD COLT
"I was like, whoa," Leach recalled of hearing the price run up so fast. "I talked to the auctioneers afterwards and apparently there were six or seven people on him all the way to $150,000. After that it seemed like it was back and fourth between two guys."
"Once we cracked $150,000, the pace started to come back a bit," Booth said, "but we really wanted to see how much money we could get him to go for."
At $180,000, Leach quit working the steer to let himself and his horse get some air. While they were 85% of the way to achieving their final price, time-wise, the sale of One Moore Metallic, which took approximately six minutes, was less than halfway done.
"I didn't want the little fella to knock up," Leach said of why he went back to doing dry work. "When you're riding a horse with that much horsepower, it's easy to forget that he's so young."
Leach's strategy for working cattle during the sale was to not let the young horse get too hot.
"I'd get a couple of turns out of him and then walk off," Leach said. "I wanted to make sure he got his air but I also wanted to make sure that there was something happening in the arena."
As the price increased, so too did the tension.
"It felt like everyone had stopped watching the horse and were watching who was bidding," Booth said. "They were trying to work out who the two people were."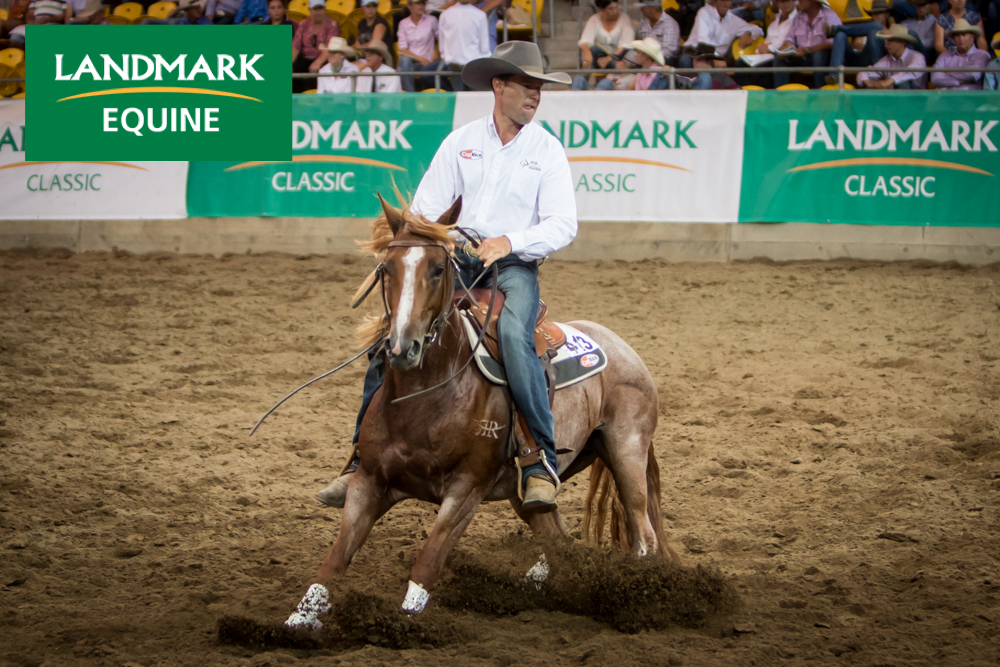 Rob Leach and One Moore Metallic work their way towards a $210,000 price tag. PHOTO: WIld Fillies

A fresh beast was put in the ring as the bidding hit $200,000. While Auctioneer Booth urged buyers to 'get themselves into the record books' and that 'they were only playing with change', the price stayed stagnant for 46 seconds. After Booth's third call for someone to offer more than $200,000, a last minute bid of $1,000 came in. It then took another 64 seconds for the price to rise to $208,000. It took a further 20 seconds, for it to reach $210,000.
"It was a pretty cool thing, it's something that I may never get to do again," Booth said of calling for thousand dollar bids on a horse that was already at two hundred thousand. "Ultimately we work for the vendor. We're there to get as much money as we can draw for our client. It's how you work the crowd to draw out every last cent that they've got for your client. We do that with every horse, we come back to a small price increase because that might get people to spend a little bit more money."
A source close to the buyer believes that the stallion will get trained to compete in both cutting and campdrafting. It is unknown when he will take up stud duties.
"There's a big opportunity for an Australian-bred stallion that can cut and draft," Leach said, "and this horse has got great genetics and he's a great athlete. He's the best 2-year-old I've ridden. I've rode a lot of 2-year-olds and when I was in the States (working for Roger Wagner) I rode some very good horses like Stylish Martini ([Docs Stylish Oak x Miss Martini Play by Freckles Playboy] who sold for US$700,000 in 2012 mid-way through her aged event career). When I first got on this horse, he had that something that was very special that I'd never felt before."
One Moore Metallic was bred and sold by Russ and Rebecca Bradley who have put together a band of top quality, highly commercial, broodmares. One Moore Diva (One Moore Playboy x Lexolena by Docs Freckles Oak), who was third in the NCHA Australia Futurity Open, was a finalist at the Warwick, Condamine, Chinchilla and Paradise Lagoons Open Campdrafts and won the Australian Stockman's Hall of Fame Open Campdraft, is typical of the mares they have acquired.
"Breaking the record couldn't have happened to nicer people," Leach said. "They are so unassuming and have worked so hard to build their breeding program. I'm very grateful for the opportunity they gave me to put him through the sale."
Here's a video of One Moore Diva ridden by Tom Williamson during her first finals at the Warwick Campdraft.
One Moore Metallic was started by Bruce O'Dell and then turned out in a paddock. He had never seen a beast until he got to Leach's facility near Tamworth in early December 2016. A hoof abscess and some other minor issues interrupted his training. Leach estimates that he had just eight weeks on cattle before his February 11, 2017 sale date.
"He's just been an awesome little horse," Leach said. "He wouldn't have had four months training in his life. He has so much athletic ability and so much cow—he cares about a cow. The minute I put him on a cow he started vibrating he was so intense. He was so quick-footed and light in his front-end. If you show him something once, then that's it. It doesn't matter how much you ask of him, he gives you more and more."
Before The Record
Before his record breaking sale with One More Metallic, the highest price Auctioneer Booth had drawn on a horse, was $47,000. That horse was Kaypehaich Acres Of Pearls (Hazelwood Conman x Kaypehaich My Miss Acre by Acres Destiny) who went through the ring at the Landmark Classic Sale just three lots before One Moore Metallic.
Before One Moore Metallic, the highest price Leach has had a horse make at public auction, was $65,000. That was on The Wolf Of Wall Street who was the highest-selling stallion at the 2015 Landmark Classic Sale.
See the video of The Wolf Of Wall Street selling in 2015 here.
Before the 10th Annual Landmark Classic Sale, held February 9-12, 2017, the sale record of $120,000 belonged to One Stylish Pepto who was ridden through the ring in 2013 by Mark Buttsworth. Here's a video about One Stylish Pepto and how the syndicate that sold him viewed him as a 'beer drinking exercise' that took them around Australia and to the USA.
Video Credit: Wild Colt Productions