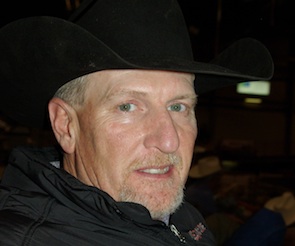 Dave Stewart: When Do You Put Your Hand Down During a Cutting Run?
Cutting, Cutting Showmanship, Free Training Articles
Before you start this lesson may we suggest:
1. Read the article first so you become familiar with topic.
2. Watch the videos.
3. Hammer home the lesson by viewing the photo gallery.
Remember: If you have a fast internet connection press HD on the video player for better quality video.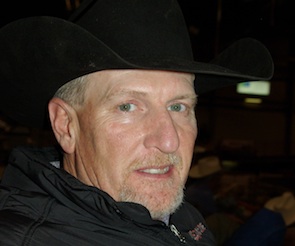 Putting your hand down at the right time can make or break a cutting run. After experiencing the relief of getting a single cow separated from the rest of the herd, many cutters are anxious to throw their hand down and give their horse the responsibility for the rest of the run.
"Don't be so quick to put your hand down," said NCHA Hall of Fame trainer Dave Stewart of Midland, Texas. "Just because the cow's out front doesn't mean that you're ready to start cutting"
The ideal time to put your hand down is when the cow is stopped and your horse is at a 45 degree angle to it.
"Cutting flat can put the horse in a dangerous position – especially if it is a three or four year old. You want to put your hand down so that the horse's first move is easy and so that he can easily go in either direction depending on what the cow does," Dave said.
Dave explained that cutters should always remember that a good run starts with a good cut.
"Start slow and easy, think about your horse's position on the cow before you put your hand down. If you start slow then you can always go faster but if you start fast, it's hard to get slowed back down. Once you've set your horse up then you can let the cow control the speed after that."
Watch Dave Stewart's other eHorseTrainer.com videos Setting Up A Cow on the Cut to learn how to get a cow out of the herd.
Subscribe to eHorseTrainer.com to have access to our 'subscription only' articles. Each article incorporates video, magazine style articles and photo galleries to help you learn.
More Articles
Cutting Showmanship, Cutting
Dave Stewart is known for being able to direct Non Pro and Amateur cutters to the right cow and talk them through the cut. In these two videos, Dave gives an inexperienced cutter a lesson in making cuts and then ...
Cutting, Cutting Showmanship
NCHA Hall of Fame trainer Dave Stewart shows you how to set yourself and your cow up to have a great cutting run.